The MIT group
Strong Basis. Individual Solutions.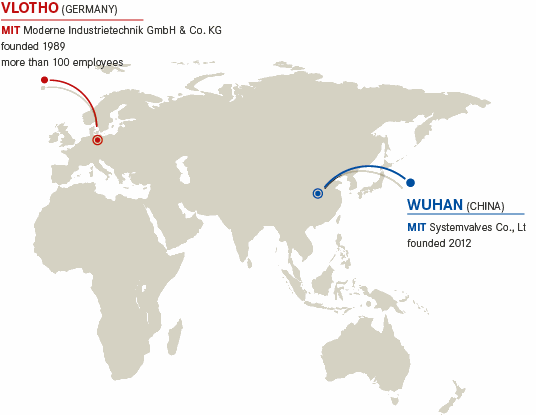 What Guides us
Great Team Spirit and Addiction to Technology
As an owner-operated company it is our aim to develop and manufacture high-quality solutions for process technology together with our customers. To achieve this we build on sustainable cooperation in a spirit of partnership. Our business culture is characterized by teamwork and open-minded communication, commitment, trust and sustainability. Important values, that are considered by management and employees alike. We also attach great importance to the involvement of employees, their voice and their ongoing training.
We are your partner when it comes to selection and configuration of your industrial valves or creative valve design, development and manufacturing of pre-finished components - called system valves. Using intelligent solutions, which combine a large variety of components and functions in a minimum of space, we raise the hidden efficiency potential of your application. From single copies to series, we realize ambitious solutions, thanks to modern production facilities with top class equipped welding technology. Flexible and fast.
Facts & Figures
MIT Germany
Founded 1989
Founded as a trading company, MIT quickly developed into an company with manufacturing excellence for international companies and the know-how to develop solutions for their customers.
Turnover
In 2019 MIT had a turnover of more than 15 Mio. €
EMployees
Today more than 100 employees are dedicated to the work for their customers and provide great service and products.
MIT Wuhan
Founded 2012

As a benefit to our international customers, MIT opened the Chinese subsidiary to help with localisation in the Asian markets.
production Focus
MIT China focuses on welding and assemblies with high quality for small and medium batches.
High Quality
The production is under German supervision to guarantee the high MIT quality standard.
The Result: strong Basis. Individual Solutions.